Jang So-Sul/Sun-Woo So-Sul is the former head of the Sun-Woo Clan.
Appearance
Edit
So-Sul is small and has a weak frame due to her unique body condition which makes her seem younger than she really is (a fact that greatly annoys her as Shi-Woon treats her like a little child). In the beginning, she cannot talk too much due to her unique condition; whenever she does, she is come over with a coughing seizure. But due to Shi-Woon Yi administrating his blood to her as a remedy and then massaging her body, she can now talk more due the vast amount of ki in Shi-Woon's blood. After some time, her body has began to change dramatic changed as she grown taller.
According to Seung-Jae Bae, who made her a medicine that will cure her from her condition and balance her mismatched Ki and growth, she will be "reborn" as sexy woman with great perfect figure once she passes through that stage.
Personality
Edit
Despite her appearance, and even her age (15 Years Old), she puts up a mature front, a trait that is shown in her almost aristocratic style of speech and her self-denial of a teenage lifestyle. She appears to be calm even when there is danger although it was revealed that she was afraid since she saw the same things in nightmares and was scared. She pertends to be shy. Who does show her true desires and always acts forcing things that she actually wants to do. When she played with Shi-Woon in the sand making castles.
Just before leaving Sun-Woo Clan to join the Black Forest Defence, she gives Shi-Woon full command of the Sun-Woo Clan by giving him the Phoenix Medallion. At the time, Shi-Woon didn't know how valuable the medallion was.
After a few months with the Black Forest Defence she has become colder with the will of killing people without slightest restrain and stepping into blood of the people Takeshi killed without problem. Whether this was simply acting or her true character is not confirmed, but it is possible because she mentioned in the past in a discussion with Shi-Ho that she does not trust them. Whoever dares to bring harm to Shi-Woon without her permission will be killed.
The Breaker
Edit
The Sun-Woo Clan wanted to get rid of So-Sul due to her body type, claiming it will bring ruin to the clan. But her father, the former leader of Sun-Woo Clan, went against the clan's wishes in order to protect his only daughter. Before leaving he gave her the Phoenix Medallion and put her under the care of Jip-sa Jung.
She has developed an infatuation with Shi-Woon Yi after he saves her from the Gukryupa gang and even gives him the Phoenix Medallion, although she herself constantly denies this when she is being teased.
She comes to Shi-Woon's rescue in a helicopter piloted by Alex. Although it's unclear, it is implied from conversation between Shi-Ho Lee and So-Sul that the Black Forest Defence group wanted to cure her of her Nine-Yin Body Type. This might explain why she would join them so willingly.
The Breaker New Waves
Edit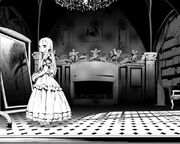 After spending some time with the Black Forest Defense, So-Sul appears able to stand up and walk naturally, despite the fact that she was not able to stand up before. She is being introduced by
Kaiser
to four men, whose identity is as of yet unknown, as "the perfect being that all the people from the
Murim
have been dreaming of" (probably because of the potential that her Nine Yin Body Type is thought to have). Two of them are called
Black
and
Red
respectively. In a discussion with Black, he seems distrusting towards So-Sul's potential, and after revealing a team of armed soldiers that he had prepared, he decides to test it himself by seeing if she can deflect a bullet and then targets her with a gun. The fact that she can move naturally, her being introduced to some people (probably of great power) as "someone that the Murim has been dreaming about" and seeing as how calm she is after seeing the armed team entering it means that there has been progress with her treatment. This was confirmed when she defeated Black simply by touching him in the right hand and it did not appear to affect her in the slightest.
[1]
During the meeting of Group of Five with Black Forest Defence talking about Nine Arts Dragon leaving to take Seoul.
A few weeks later she was seeing walking with two maids
Techniques & Abilities
Edit
Abilities
Edit
Due to her special condition she is not able to learn martial arts but it is believed that if treated her potential is unimaginable. In her reappearance an amazing progress is revealed.[2]
Techniques
Edit
Phoenix Medallion: The holder of the Medallion is considered the undeniable leader of the Sun-Woo Clan that gives the user full command of the Sun-Woo Clan.
Relationships
Edit
References
Edit
↑ The Breaker New Waves Chapter 85
↑ The Breaker New Waves Chapter 86
Cover Photos
Edit
The BreakerEdit
The Breaker New WavesEdit